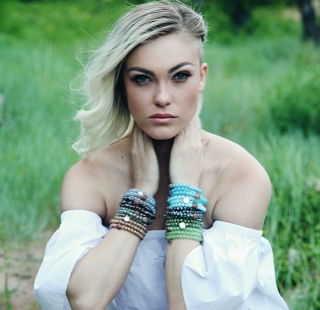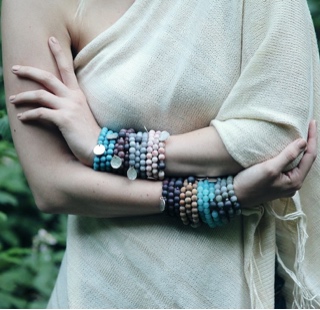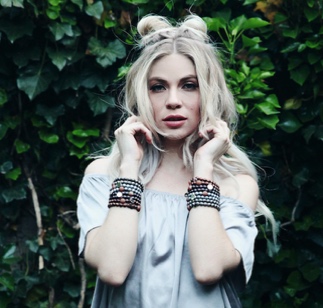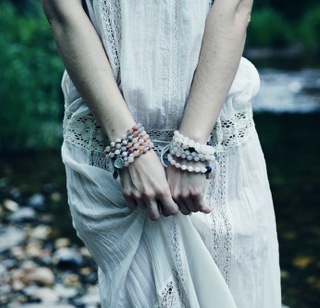 Matte Faceted Hematite Energie Bracelet
Hematite draws out all negative energies & the
druzy quartz bead replenishes positive healing energies!
Women's signature charm
mens without charm
Affirmation Bracelet
each bracelet comes with a daily affirmation to say aloud each day
designed with a sterling silver charm, jasper, jade or labadorite,
crystal accents and a drusy quartz bead pulling positive energies
** mens come with accent color/no charm
Jasper and Jade promotes nurturing and healing
and are also spirit stones of courage and wisdom
carrying a strong connection to the earth's energy
making the healing properties beneficial for strength.
Mint: I choose to Let Go
Beige: I choose Forgiveness
Blush: I choose to Love Myself
Mahogany: I choose to be Grateful
Blue: I choose to Speak My Truth
Brown: I choose to be Healthy
Mineral: I choose to be at peace
Soft Gray: I choose to be wise
Sea: I choose to be Mindful
Golden: I choose to be happy
NEW Green; I choose renewal
NEW Earth - I choose courage
NEW Aquamarine - I choose to be confident
NEW Amethyst - I choose balance
NEW Moss - I choose to take action
Moon Intention Bracelet
There is a full moon and new moon each month throughout the year.
•Full Moons
are for releasing and letting go
of what no longer serves you
•New Moons
are for new beginnings
& setting your intentions
each bracelet comes with a list of all the dates
of the new or full moon throughout the year
along with a ritual to perform, with your bracelet,
setting your intentions for the year
( or can be performed each month to reset if preferred )
note: double wrap bracelets can be held as a mala
if meditating wth rituals and then
doubled over and worn as a double bracelet
FULL MOON : designed with white agate for cleansing
and purifying
NEW MOON : designed with natural quartz for
strength & power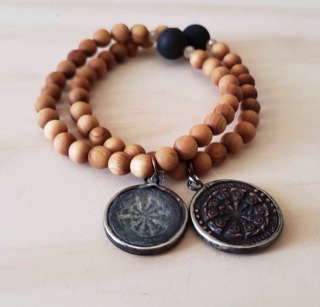 Dharmachakra Mindfulness Bracelet
each bracelet comes with a short meditation/intention guide to help begin a quiet simple sitting practice
designed with sandalwood beads and agar wood for their calming properties and for enhancing intentions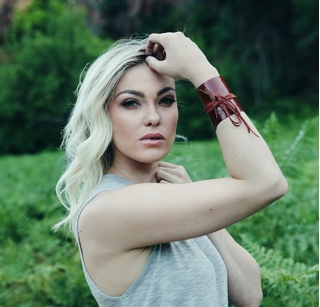 Recyled Leather Journal Wrap Cuff
looks, ties and wraps like a journal & you write in it as a journal!
a memory . message . a quote . an affirmation
wear it with you always!
Friendship, Birthday, Weddings, Anniversary, Recovery & Loss.
Women& Men ( length 3" ) & Unisex ( length 1" )
colors vary - stock changes monthly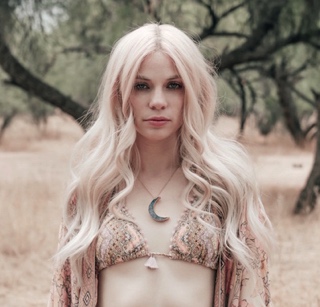 Bohemian Crescent Moon Drusy Necklace
each one of a kind drusy crecent moon pentdant
is open on the back for full vibrational energy.
Available in 3 color hues & Adjustable to two lengths
Buddhist Blessing Scroll Necklace
* limited edition *
Each from Tibet blessed and scripted on the outside from the individual monk who rolled them.
Keep and wear your blessing with you always.
34" length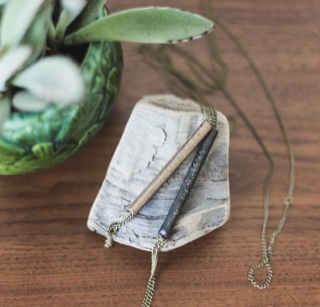 bring out YOUR inner Rockstar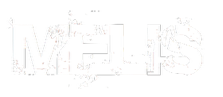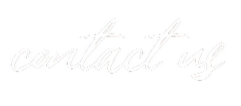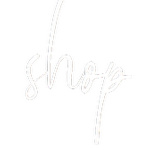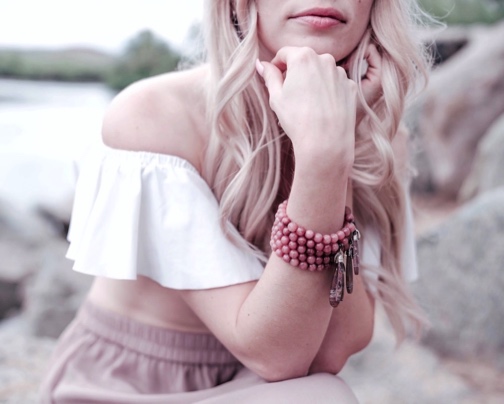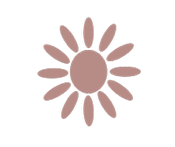 NEW
Energie Boost
Natural Stone Spheres to heal your mind, body and spirit
Give yourself a daily boost of ENERGIE!
comes with selection of individual sphere or collection of 3
and instructions on how to hold the spheres
to cleanse and heal your body each day.
Adventurine - healing for the lungs, liver, sinus and heart
- nervous system and anti- inflammatory.
- Releases energy blockages
Rose Quartz - open your heart to yourself and others
- deep inner vibration
Hematite - absorbs negative energy
and ailments from the body
- grounding.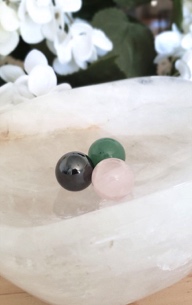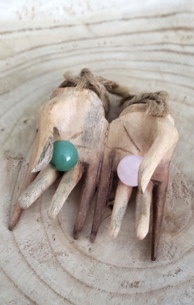 Summer Solstice
june 21 - september 21
Summer energie bracelet is handmade with peach jade and blue calcite
drop with bronze crystal accents and a drusy quartz bead pulling positive
healing energies.each bracelet comes with a description on the energies of
the summer season, the birthdays incorporated within the season,
a little about the tarot of the winter season and a few keywords
on the power energies as well.
LIMITED RESTOCK Summer Solstice Energie Bracelet